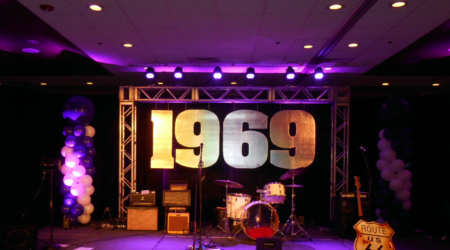 First, the Sunset Class of 1969 would like to recognize and thank all of our 50th Reunion Sponsors.
Senior Sponsor: Dr. Mike Kenney DDS, Dental Sleep Medicine.
Junior Sponsors: Mr. Randy Smith, Smith – Frank Partners, Mr. Mark Wolfe, Re/Max DFW Associates.
Sophomore Sponsors: Mr. Steve Vincent, Power From The Son. Mr. John Faulkner, FMH – Material Handling Solutions, Dr. Paul M. Hamilton, M.D., Texas Behavioral Health Systems, PA, Mr. Tav Walraven, In memory of Jo Gayle Dillon Howard, Mr. John Cattaneo, Mrs. Suzi Kimmel Dunn and Dr. Stan Dunn, DDS
The 50th Reunion Extravaganza for the Sunset Class of 1969 was held October 17 ~ 19, 2019 at the Magnolia Hotel, Park Cities, Dallas, TX.
The 50th Reunion events kicked off Thursday at the State Fair of Texas, where a large herd of 69 Bison gathered for the obligatory group picture under Big Tex. I can report that after a couple of Fletcher's Corny Dogs…they were great, as usual!
Friday night found an extra large herd of 69 Bison, some of whom had never attended a Sunset 69 alumni event,  at the Magnolia Hotel Park City Bar and Grill for the Mixer. What a great evening it was for catching-up with our friends and classmates. Another good time was had by all who attended. 
Saturday morning started off with a golf outing at the sentimental favorite, Stevens Park Golf Course, Oak Cliff, TX. And what a beautiful day it was to be golfing. We would be remiss if we didn't send out a great big shout-out to

Hast Texas Nachos – K. Wayne Hast & Co. (Wayne Hast, Sunset 67, brother of Jerry Hast, Sunset 69)

 for their wonderful full sponsorship of the golf outing. Thanks Wayne for your support.
Saturday also found a large group of Lady Bison out for a delightful Luncheon at Campisi's Restaurant on Mockingbird. And again, we would be remiss if we didn't recognize and thank our sponsors, but…the ladies luncheon was fully sponsored by a phantom sponsor! Who ever you are…thank you for supporting the Sunset Class of 1969 50th Reunion.
Saturday night found the herd at the Magnolia Hotel, Park Cities ballroom where a sellout crowd enjoyed dinner and dancing at the 50th Reunion Extravaganza party. Our Master of Ceremonies, Larry Collins, opened the soiree by welcoming all attendees. Mark Wolfe was asked to deliver the invocation. Larry proceeded to introduce the chairman of the Reunion Planing Committee, Charles Donald, the photographer for the evening and the DJ. Larry also recognized the attendee who had traveled the farthest to attend the Reunion. Surprisingly enough, our classmate Durline Dunham Melanson traveled from Annapolis Royal, Nova Scotia, CA to attend the 50th Reunion. WOW! Before dinner, the attendees were treated to a baton twirling routine by Sunset Majorettes, Evie Irvin Anderson, Sue Churchill Krayer and Janice Curry Rogers. A fabulous dinner was served to all. The music for the dance was provided by the band Route 66…formally known as Kenny and the Kasuals.
What a fantastic time to be a member of the Sunset class of 1969.